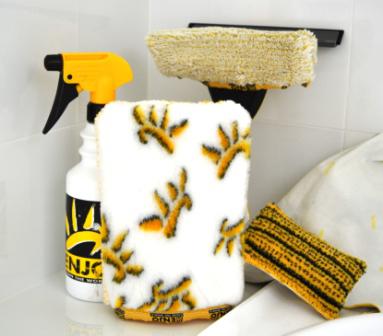 With a predominant trend towards improving the environment and reducing the effect of chemical related allergies, The Retreat Beach Houses, a  beautifully appointed resort in Noosa uses a cleaning regime with ENJO fibres in an effort towards creating a "chemical- free and healthier" holiday house for you and your family and a small step towards a cleaner planet!
Cleaning the Beach Houses with ENJO fibres creates a fresh clean feeling that amplifies the raw power of the Ocean and natural bush landscape, thus allowing you to unwind and feel totally relaxed within minutes of your arrival. ENJO is a leading name in cleaning fibres destined specifically for certain surfaces.  
"A dust busting duo of fibres grab and hold nasty asthma and allergy inducing microdust particles" (enjo.com.au), rather than displacing them as a traditional dusting method does. Fibres developed solely for kitchens, "gently remove tough grease and food residues" (enjo.com.au) even from an oven in just a few wipes, eliminating the need for caustic chemicals. This self contained Accommodation is perfectly suited to families seeking an environmentally friendly, safe and memorable beach side holiday, just like the old days with a touch of today's luxuries including a heated lagoon style pool, Wifi and platinum Foxtele.
This spacious Noosa Accommodation is situated on  the Sunshine Coasts  serene and unspoiled Peregian Beach. Peregian Beach boosts a quaint village that attracts worldwide visitors for specialty shopping and five star restaurants, not to mention the Peregian Originals which is a monthly community  event  that  brings together all ages in the most mellow atmosphere on the grass outside the Peregian Beach Surf Club. Visit Peregian Beach and you will almost feel as though you have stepped back in time!!!